A PREMIUM STREAMING SERVICE
The following is a premium streaming service concept design executed across ~60hrs, born from the reality of cord-cutting and led by the desire for quality content in an engaging mobile-app environment.
Role:
Product strategy

User research & Analysis

Persona creation

Wireframes

UI Design & Prototyping

High-Fidelity responsive MVP for developer handoff
Methodology:
Brand Research

Competitive Analysis

User Interviews/Survey

Affinity mapping

Personas

Design System Buildout

User/Task Flows

Sketching/Wireframing

Mobile Prototyping

Usability Testing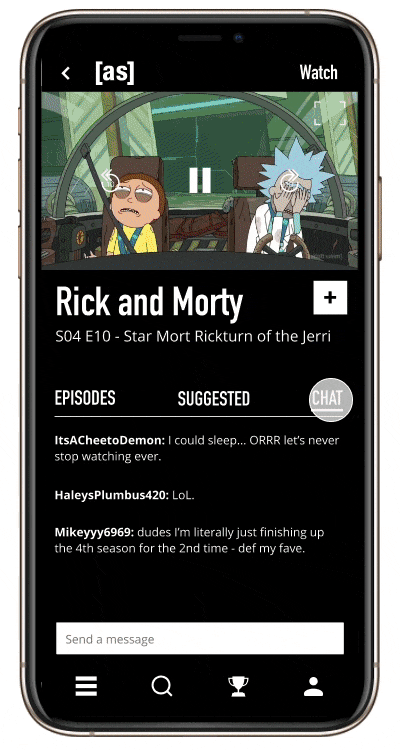 OUR PROBLEM - OUR OPPORTUNITY
While Cartoon Network's [adult swim] programming block has been accessible via mobile app since 2013, it has always required a cable subscription for full use. Non-cable customers are given only a few episodes of select shows.
In hopes of getting away from a cable-subscription model that relies on ad-based revenue, [adult swim] wants to re-engineer their app to allow cord-cutters (users without a cable account) to access all their content ad-free, via a premium service. They also want to help users new to their programming discover new content and share clips with their social networks.
BRAND RESEARCH
Our initial dive into brand research brought us through the history of Adult Swim and their demographic - originally simply a programming block of several late-night properties on Cartoon Network. Launched in 2001, but granted its own Nielsen ratings report from Cartoon Network in 2005, due to targeting a separate demographic. The block features stylistically varied animated and live-action shows; including original programming, syndicated series, anime, original video animations, and short films with generally minimal or no editing for content.
The block has frequently aired adult animation features, mockumentaries, sketch comedy, and pilots. Adult Swim shows are known for their sexual themes, frank sexual discussion, nudity, strong language, and graphic violence. Many of its programs are aesthetically experimental, transgressive, improvised, and surrealist in nature. Adult Swim has contracted with various studios known for their productions in absurd and shock comedy.
COMPETITIVE RESEARCH
We needed to approach the [as] premium service with a solid grasp on existing competitors and their features. A Feature Comparison was done across six relevant leaders to see where [as] might fit in, and what could make us stand out in the field.
available data as of August, 2020
COMPETITIVE FEATURE INSPIRATION
To begin forming our approach to a mobile streaming app, we first studied direct competitors and others in similar fields. This helped familiarize ourselves with informed methods regarding general layout, onboarding, pacing, serving content, and gamification.
USER INTERVIEWS & SURVEY
In order to get a feel on the highest priorities for streamers within the [as] demographic, user interviews were conducted with six individuals to obtain qualitative data regarding the streaming services they use, the frustrations they encounter, the specific joys they experience, their desires/wishlists within the streaming space, and their perceptions on [as] as a brand & content provider.
​
To further refine our synthesis of this demographic's habits and needs, a survey was created to procure quantitative data, and shared to reddit - it received 22 responses.
RESULTS & PROPOSED SOLUTIONS
In order to focus our sights on the exact desires, appreciations, and pains within this space, our team organized findings from these interviews and survey into similar groups This helped define our true problems so that we could craft features that would relate to and delight [as] users.
"Everything I watch has clips on youtube, so I share to friends from there. and gifs."
"How do I get away from this auto-playing live stream?"
"I have a gamer pride with achievements, so I'd love to have them on my profile"
"[as] site has a LOT going on. it's visually overwhelming."
"I wish there was a better way to find new [as] stuff I might like."
"I'd love notifications if I had control over my algorithm (editable history)"
The sweeping majority of our interviews pointed to a strong desire for agency over their contents suggestion algorithm - exploring something new would always lead to suggestions.
Users will have complete control over what informs their suggestions, enabling them to switch off specific content in their viewing history so that it would not affect their personal algorithm.
This demographic stands apart from the standard streaming-video-service users in that they desire different types of engaging content in a more absurd, hilarious, and intelligent-but-crude ecosystem.
Users will encounter gamification that rewards viewing, exploring, sharing, and communicating inside of this environment. These rewards will be in the form of trophies - regularly accompanied by exclusive content that will be saved to [and can be displayed on] their profile page.
Users want to discuss their favorite content with others (they currently do so regularly on subreddits, etc.) and find/share new content together.
This service will provide the option of chat rooms within shows, bring in [as]-approved clips, gifs, and podcasts, and provide a safe and secure user-profile database that is focused on content taste, rather than the individuals.
HAYLEY is new to [adult swim], recently introduced to the service by her roommate. A busy student and barista, she's catching episodes on mobile during her breaks, and loves hearing about new shows that she might like. Wanting to learn more about the shows, she shares clips with friends to get discussions going.
These personas give real-life frameworks to guide our solutions within a feature-set that informs us how we might:
​
​give users access to new exclusive content

motivate different types of users to explore the app through gamification

optimize sharing for different types of content

provide users control over their suggestions

create a safe and engaging social space.
GAMIFICATION
Considering these personas amongst the gamification aspects we were exploring helped us to ensure that we expanding our gamification concepts to appeal to all types of users. Exploring character types with Richard Bartle's taxonomy helped define when and where we might utilize achievements, and what (outside of a trophy) could possibly accompany them.
SKETCHES
A design studio was run within our team of four - individually sketching screen concepts, then converging and filtering down our layout thoughts into what we all felt could be the most intuitive and engaging options.
this side menu with icons.
this side menu maintains continuity with rest of app
user profile selection is a must and i like this look
love inline chat achievements
i like bringing in the bracket branding for user-switching
really like the chat with achievements
i like having show clips and popular gifs underneath the episode
like the suggestion to share exclusive content
love this. like the idea of users unlocked content living on profile page, too.
USER & TASK FLOWS
Our informed personas lead us to clear insight on how we might build out a very engaging and relevant product. Examples of happy task flows through this mobile environment were developed for both Hayley & Mikey.
MID-FIDELITY WIREFRAMING/PROTOTYPING
These sketches and task flows informed our initial wireframing & prototyping in Figma, so that we could begin our usability tests.
TESTING
This prototype was then utilized in usability tests with eight users - each testing six small task flows. The feedback from these tests was recorded in order to inform our next iteration as we move towards high-fidelity.
"This feels funny and adult swim-like, but also super standard - ticks all the boxes I'd want to see... except I would love to see what amount I'd be saving if I paid annually, next to these price choices."
TASK 2 - CHANGE PREFERENCES
"I actually liked that I can access the algorithm. Some places have you just swipe and delete. I like the toggle a lot - it shows me that I can craft my algorithm."
TASK 3 - ADD CONTENT TO LIST
"It's so easy - I like that the 'add' button is nice and big. If I was not sober at the moment, like maybe Adult Swim users might be, that's a good thing to have.. big buttons."
"This was very simple - easy."

"I like this... would I be able to choose between an IG story or IG post?
TASK 5 - GET AN ACHIEVEMENT
"I think this is really cool. It allows people with similar interests to communicate and connect with each other."
"It would be neat to learn new things and get access to behind-the-scenes content. It would lead me to see shows I've never considered, just to see what I could unlock!"
[looking for trophy chase] "If that's going to make you stand out [compared to other streaming services], you should make IT stand out."
"FISH. Sweet... I'd cast that to the TV."
"Live. Fish. This is golden."
These eight usability tests brought to light small flaws and refinements that would inform our final high-fidelity prototype. Before moving on to high-fidelity, a Brand Guideline was solidified in order to ensure standardization of all color, type, and tone used within this mobile app.
OUR FINAL ITERATION
Over the final day of this project, all synthesis culminated into a high-fidelity Figma prototype.
NEXT STEPS
Conduct A/B Testing with 25% of users over first 2 months, staying cognizant of all ethical concerns (achievements causing viewers to watch 'too much'?).
​
Speak with legal team regarding handing users power to create their own small gifs/clips for sharing purposes.
​
Possible reiteration of our "Report" feature, to ensure the safety of our community.
​
Continue cultivating exclusive content for app (not limited to shows) - interviews, "making of", etc.
​
Explore Augmented Reality with interested properties, for use in [as] sister app.
FURTHER WORK
As a solo exercise, one week after we developed this project in Figma, I rebuilt the mobile screens and new tablet screens within Sketch. This version contained iterations on type and layout, and an in-depth symbol & text-style organization, to ready the files for developer handoff within Zeplin.